Get To Know Flipping Down South's Paul Mielke
Feb 1, 2023, 14:42 PM
When you've sold more than 240 homes and flipped over 30 homes, it's safe to say you've amassed quite an education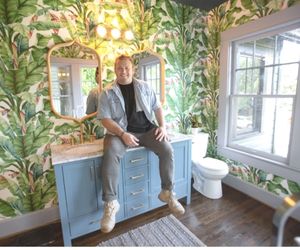 when it comes to learning the ABCs of home improvement and renovation. That's true especially of Paul Mielke, a self-taught serial entrepreneur and founder of Monroe Park Homes. On A & E's Flipping Down South, viewers can watch Paul in his element, and at the upcoming Birmingham Home Show he'll be sharing his top lessons learned live and in person.
Before he takes the stage, we asked Paul a few questions in our "pop quiz":
What home gadget or tool should every homeowner own?
A tape measure with a laser and a level. Super convenient for all things. As the saying goes. Measure twice cut once.

Are you a plant fanatic, or is your green thumb lacking?
I AM A PLANT FANATIC. I have tons of plants. Nothing makes a space feel more like home than having plants everywhere.

What's your favorite HGTV or DIY Network series?
FLIPPING DOWN SOUTH of course! Aside from that, my favorite is definitely Triple Digit Flip or Property Brothers, but my guilty pleasure is Selling Sunset.

What's the best home purchase for under $100?
Smart bulbs for your porch lights. They turn on as you enter the neighborhood so you can feel safe and sound as you approach your house.


What is one project you tell people to NOT do as DIY?
If you've never done it before, then I always tell people to stay away from tile and electrical. Electrical can be dangerous and tile will take you several times longer than a pro will take. Plus, it most likely won't look as good.


Tell us about your pet(s).
I have one dog. His name is Pablo, Spanish for Paul. I am the 3rd so he is technically the 4th Paul Mielke. He's a pitbull and he is very chill. He just eats and sunbathes.

What's your favorite paint color?
Black, although I don't paint as many homes black as I used to.


What's one outdoor tip for big impact in landscaping or curb appeal?
Pressure wash everything. It makes the house feel brighter and less dingy even if no one notices... they notice.


Favorite room in your home?
The back porch where I grill.


What's your next home project?
My wife and I are selling our personal home so I'm taking a break from what's been a year of personal projects. We are moving into a loft that has floor to ceiling windows. She wants me to figure out how to open them so I guess that's up next, haha.


What home trends are you loving? What styles do you think will emerge in the future?
I think the future is a cool place. I think you will see more communal type living where small communities get together and share resources to be self-sufficient and neighborhoods will become micro economies. Solar, water filtration systems and other things that are becoming standard are part of that wave.

Which HGTV / DIY Network star would you most like to work with and why?
I think it would be insanely cool to work with Ryan Serhant. He has moved in and out of TV into the business world and is crushing it in everything he does.

What do you enjoy about being at a home show?
Being around my people! This is an amazing industry full of innovative people who are all attacking the same problems in different ways.


What project are you currently working on?
We have about six flips going on right now. I am focused on getting them to the finish line and getting a refinance done on my rentals. After that, I will be focused on adding a couple short term rentals into the mix


What is an outdated home trend you hope doesn't come back?
Shiplap.


Paul will be sharing his best house-flipping and designing tips on the Fresh Ideas Stage on Friday, February 17th at 3 p.m., and Saturday, February 18th at noon and 2 p.m.